MMHE-ATB Sdn Bhd is a joint venture between ATB Riva Calzoni (ATB RC – 60%) of Italy and Malaysia Marine and Heavy Engineering Sdn Bhd (MMHE – 40%). The joint venture is to tap the synergy and benefits arising from the combined strengths of two established partners.
ATB Riva Calzoni is a leading internationally recognised manufacturer of sophisticated pressure vessels and other thick-wall equipment that are characterised by stringent requirements to meet extreme pressure and temperature services and handling of corrosive products.
The JV Company concentrates its activities mainly in the manufacturing of process equipment for the oil & gas and the petrochemical industries. With ATB Riva Calzoni's manufacturing technology and know-how, the joint venture is also looking for opportunities beyond the oil & gas and petrochemical sector such as the hydroelectric power and steel industries.
MMHE-ATB Sdn Bhd is accredited to:
ISO 9001:2008 Quality System – Certification by Lloyd's Register Quality Assurance Ltd.
'U', 'U'2, 'S'. 'A' and 'PP' Stamps by ASME (American Society of Mechanical Engineers)
Authorised to use 'R' SYMBOL by NBBI (National Board Of Boiler & Pressure Vessel Inspector)
Authorised to use 'NB' mark by NBBI (National Board Of Boiler & Pressure Vessel Inspector)
OHSAS 18001:2007 certified
EMS ISO 14001:2004
Business Activities
Pressure Vessels
Process Skids / Packages for Offshore, Onshore Oil & Gas Projects
Heat Exchangers
Hydro Mechanical Equipment for Hydro Power Industry
Special Works
Other equipment
| | |
| --- | --- |
| Facilities | Information & Dimension |
| Fabrication Shops 1 & 2 | 250m x 25m x 11.5m |
| Fabrication Shop 3 | 60m x 15m x 8m |
| Fabrication Shop 4 | 100m x 15m x8m |
| Blasting & Painting Shop | 250m x 45m |
| Material Lay Yard | 100m x 25m |
| Total Fabrication Area | 16,000 m² |
| Covered Fabrication Area | 11,000m² |
| Plate Rolling Capacity | Up to 150mm thickness |
| Rotators | Up to 500 tons |
| Cranes (Overhead & Gantry) | Up to 80 tons |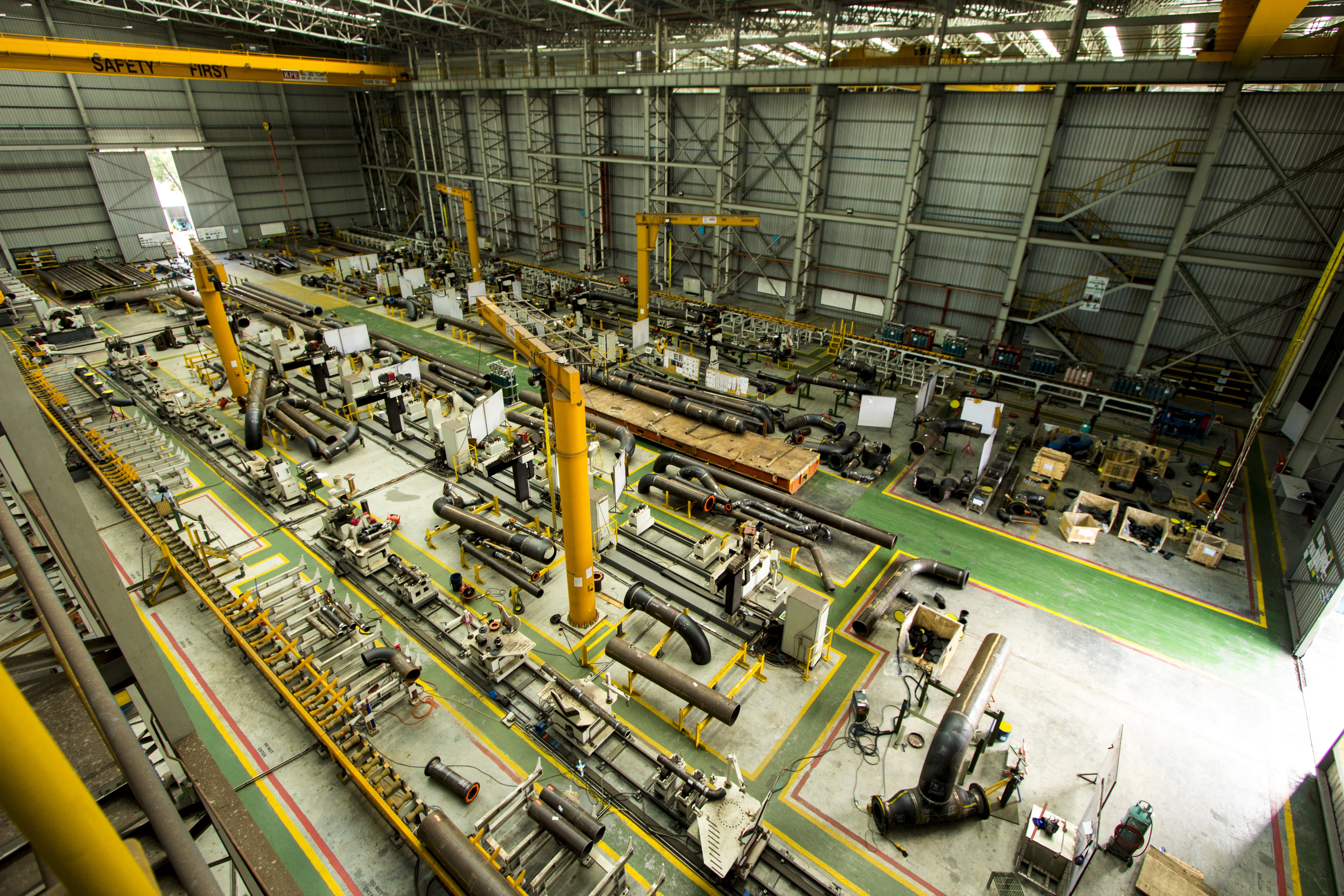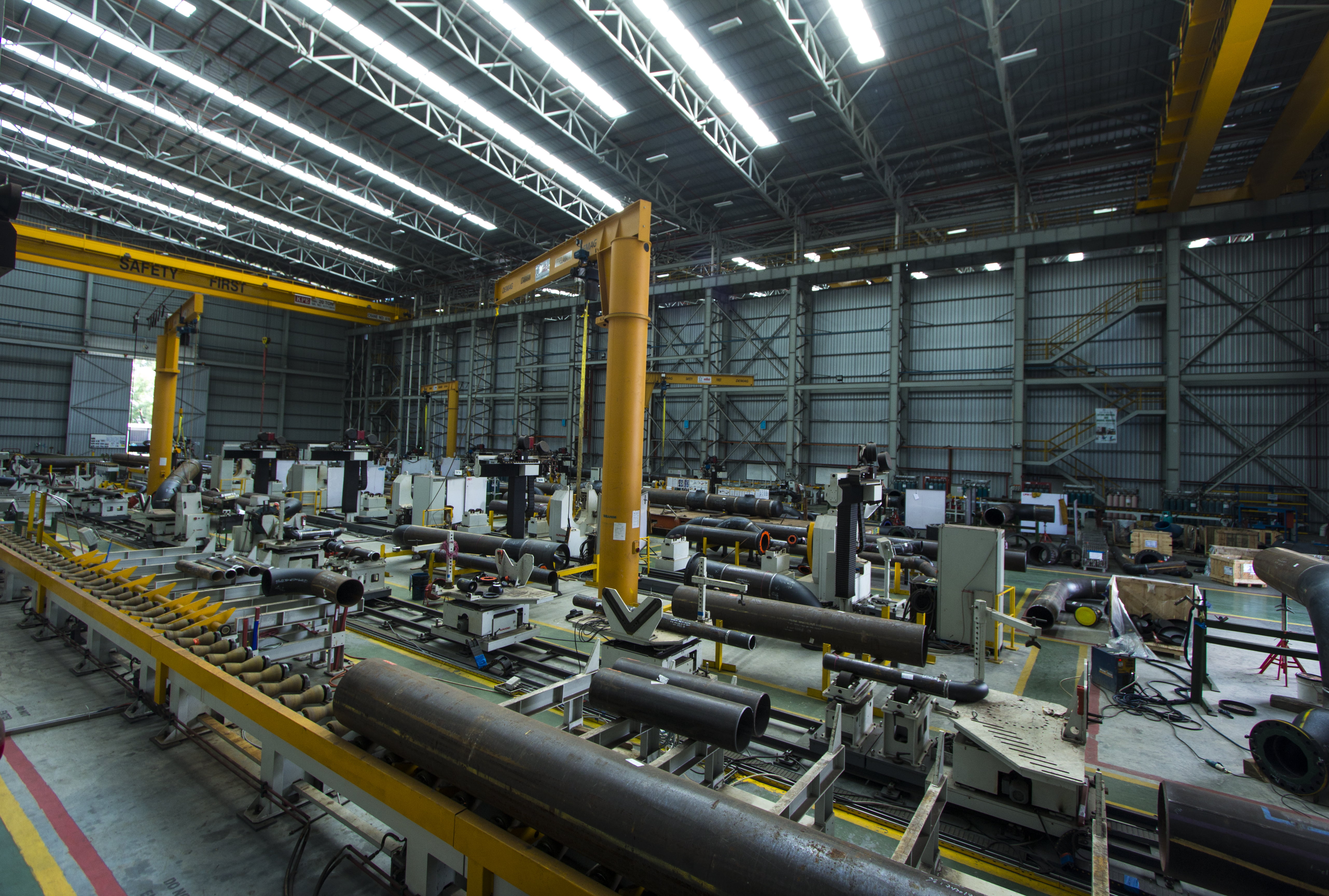 Centralised Piping Workshop (CPW)
Fabrication of pipe spools up to blasting and painting
Packaging of pipe spools for shiploose
Pipe cleaning and preservation
Hydrotesting fabricated pipespools (if required)
Facilities at CPW
Overhead crane 20 tonne
Overhead crane 10 tonne
Gantry crane 5 tonne
Cutting And Beveling Machine With Auto System
Auto welding machine
Semi auto fitting table
Facilities
Capacity (Dia-Inch / Month)
West Yard
CPW 4
5,200
CPW 5
10,400
CPW 6
10,400
CPW 13
13,000
CPW 12
7,800
New AW4
39,000
New CPW CW W5
20,800
CPW Exotic A
7,800
CPW Exotic B
6,500
Temp Green Tent
6,500
East Yard
Land B Big Bay
18,200
Land B Small Bay
10,400
E&I/Mechanical
5,200
Land C Small Bay
5,200
GRE
5,200
Land A
7,800
Cutting & Assembly Workshop
Divided into 3 sections – Cutting Shop, Sub-Assemble & Compt. & Main block shop
Various Over Head Cranes capacity from 20T to 160T
Capacity up to 1,600MT/Mthof cutting works & 8,000MT/Yrsof finish product.
Prefabrication Workshop (Structural) Facilities
Plate CNC Cutting Machine's -6 units(110ton)
T Bar Fabrication Machine – 1 unit (15 ton)
Plate fit-up machine -1 unit (2 panel)
Plate SAW Tandem joining machine – 2 units (2 panel)
Stiffener fit-up Machine 1 unit – 2 panel
FCAW tandem stiffener welding machine – 1 unit (2 panel)
BeamCoping Machine -2 unit (60 pc mark)
Pipe /tubular CNC cutting Machine -1 unit (30pc mark)
Tubular Tandem welding joining machine -4 units (8 joint)
Various of Overhead -10 ton to 160 ton -14 units
PLASMA (ESAB VBA) 2 Unit
CNC Gas (ESAB VBA) – 1 unit
CNCSG 6000 -CNC Plasma Bevel and Flame Cutting Machine -1 unit
FICEP BEAM COPING MACHINE –MODEL 1201 FRC – 2 unit
Facilities
Capacity (Dia-Inch / Month)
West Yard
C&A Workshop
2,600
Workshop 11
400
Workshop 12
400
Workshop 13
300
Shiplift Workshop 1
100
Shiplift Workshop 2
100
Shiplift Workshop 3
100
Shiplift Workshop 4
100
Rolling Mills Workshop
500
Coping Workshop
400
Blasting & Painting Workshop
Shop prime
1 gun = 65 – 70m2 / day
Max accommodate up 8-12 guns
Raw material
1 gun = 50m2 / day
Max accommodate up to 8-12 guns
Capacity Blasting Chamber
Shop prime
1 gun = 65 – 70m2 / day
Max accommodate up 5 guns
Raw material
1 gun = 50m2 / day
Max accommodate up to 5 guns
Blasting & Painting (Auto-Blast Facilities)
AUTOBLAST NO 2
CAPACITY PIPE = 1650 m2 / MONTH
AUTOBLAST PAINTING AREA
CAPACITY = 52,000 m2 / MONTH
Facilities
Capacity (Dia-Inch / Month)
West Yard
C&A Blasting Chamber 1
5,200
Open Blast
5,200
New BP Chamber
13,000
CPW Chamber
3,900
Autoblast 1
26,000
Autoblast 2
3,900
Open Blast Fab 7
6,500
East Yard
Autoblast Land A
15,000
B&P Chamber Land D
6,500
Autoblast Land D
28,000
Autoblast Pipe
5,200